July 4th is Independence Day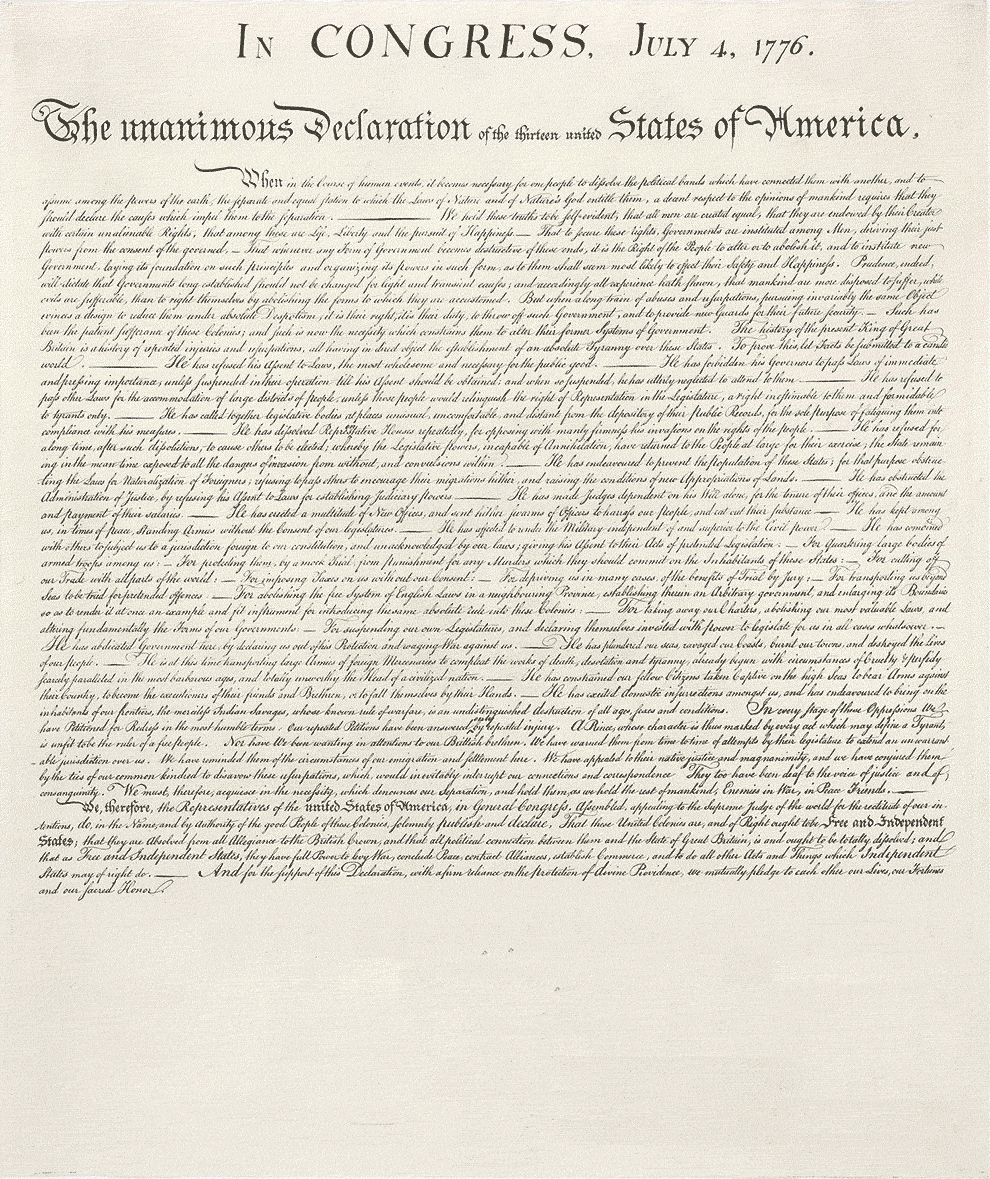 One of our two founding documents is the Declaration of Independence (the other is the U.S. Constitution).  The soaring rhetoric of our Declaration defines who we are and what we stand for as a nation, and the justification for our existence.
In the Second Continental Congress on June 7, 1776, Virginia Delegate Richard Henry Lee proposed a resolution declaring independence from Great Britain.  Congress put off voting on the resolution and appointed a five member committee to draft a document explaining the reasoning behind that action.  Thomas Jefferson was the fifth member, and was assigned as the principal drafter of the document.  The draft document was submitted to Congress on June 28.
On July 1st, Congress debated Lee's resolution, and it passed on July 2nd.  Massachusetts Delegate (later President) John Adams thought that July 2nd would be considered Independence Day.  Congress then began debating the draft declaration, making substantial changes, and voted to approve the final draft on July 4th.  They then sent the document out for publication dated as of the date of passage.  That is why Independence Day is commemorated on July 4th.
Although most don't realize it, the Declaration of Independence was actually signed on August 2, 1776, with the president of the Congress, John Hancock of Massachusetts, the first to sign.  He wrote his signature in giant letters, so that King George  could read it "without having to put on his spectacles".  A total of 56 delegates signed.
In the 20th century, President Woodrow Wilson, our first progressive president, considered our founding documents archaic and obsolete and wanted to eliminate them, replacing them with a new scientific administration, relying on administrative experts to draft laws and regulations.
Perhaps the greatest defense of the Declaration came from President Calvin Coolidge in a speech he gave on July 5, 1926, on the 150th anniversary of the Declaration of Independence.  In response to Wilson's progressive ideas about scientific administration, he said, in pertinent part, the following:
 "About the Declaration there is a finality that is exceedingly restful. It is often asserted that the world has made a great deal of progress since 1776, that we have had new thoughts and new experiences which have given us a great advance over the people of that day, and that we may therefore very well discard their conclusions for something more modern. But that reasoning can not be applied to this great charter. If all men are created equal, that is final. If they are endowed with inalienable rights, that is final. If governments derive their just powers from the consent of the governed, that is final. No advance, no progress can be made beyond these propositions. If anyone wishes to deny their truth or their soundness, the only direction in which he can proceed historically is not forward, but backward toward the time when there was no equality, no rights of the individual, no rule of the people. Those who wish to proceed in that direction can not lay claim to progress. They are reactionary. Their ideas are not more modern, but more ancient, than those of the Revolutionary fathers."
Today, the Declaration of Independence remains our founding document and makes us unique in human history.  Our nation was founded on the pursuit of ideals, not the pursuit of power.
Our Annual Veterans' Dinner is Next November 12th
Every year we hold a Veterans' dinner to honor and celebrate our Desert Hills veterans, and veterans in general.  The event this year will again be held in Fellowship Hall.  Dinner will be from 4:00 pm to 6:00 pm, including a featured speaker, with check-in beginning at 3:40 pm.
Please mark your calendars and plan to attend.
TROOP CARE MINISTRY GIFT CARD DRIVE A SUCCESS
Every spring the Troop Care Ministry organizes a gift card drive for the Luke Air Force Base Airman & Family Readiness Center.  These cards enable local military families, regardless of branch of service, to receive extra help in times of need.
Inflation has caused a rapid rise in prices, and the grocery gift cards can make a huge difference to local service members.