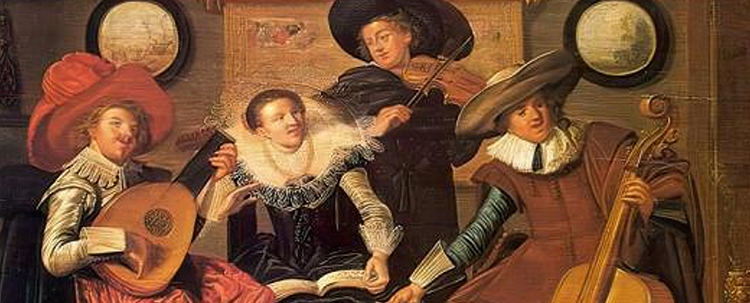 Renaissance Yuletide Feaste
Thursday, December 8, 2022
5:30 PM


$35 PER PERSON
Renaissance yuletide Feaste
You are hereby commanded to quit this year and travel back in time over four centuries to Renaissance England, where you will dine with their Majesties in a castle hall and be entertained by the Chancel Choir, the finest musicians in the Kingdom. HUZZAH! Welcome in the Christmas season and partake of the festivity and ceremony of the royal court as you enjoy a fine dinner and are treated to madrigals, carols and Renaissance music of the season, performed in full Elizabethan costume in a castle hall setting.
The castle hall will come alive with costumed characters so done miss your chance at these limited tickets.
$35 PER PERSON
BUY TICKETS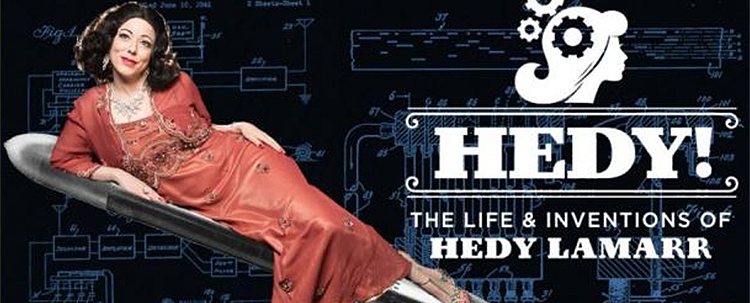 Hedy! The Life & Inventions of Hedy Lamarr
Friday, January 27, 2023
7:00 PM
STUDENT WORKSHOP
Saturday, January 28, 2023
9:00 AM – 12:00 PM
Hedy! The Life & Inventions of Hedy Lamarr
Friday, January 27, 2023    7:00PM
Hedy Lamarr, glamorous siren of the silver screen, was more than 'The Most Beautiful Woman in the World'. She invented Frequency-Hopping Spread Spectrum Technology that makes the world of wireless communication tick. From Austria to Hollywood, WWII, torpedoes, ecstasy, and intrigue to the very cell phone in your pocket, she was there!
Heather Massie enchants the audience as Hedy Lamarr, along with Jimmy Stewart, Bette Davis, Louis B. Mayer, and more! A 36-character solo play where the audience summons Hedy to unearth the truth behind how a glamorous Hollywood film star could create an invention which launched today's wireless technology revolution!
S.T.E.M. Workshop for Women and Girls (middle school age and above)
Saturday, January 28, 2023   8:30AM to 12:00PM
Women and girls (middle school and above) will want to register for this informative and fun S.T.E.M.-based workshop featuring community leaders from Arizona Science Center, Arizona State University, and Heather Massie's improvisation/performance class for theater lovers. Professors Cynthia Keeler, Banu Ozkan, Patricia Rankin, and Arumina Singh from Arizona State University's Department of Physics will discuss the exciting research that the latest generation of women in Physics is doing and how the field of benefits from bringing diverse perspectives. After a series od short presentations from the panel, the audience will have the opportunity to ask questions.
Event Highlights Include:
Hands-on Robotics/Coding and Engineering stations with Arizona Science Center
Master Class on using performance improvisation in school and work with New York City Actor and Writer, Heather Massie*
Panel Discussion led by distinguished women professors from Arizona State University Department of Physics followed by a Q&A
A $10 Workshop registration fee will cover continental breakfast, snacks and drinks. 
Use the QR code below to register NOW!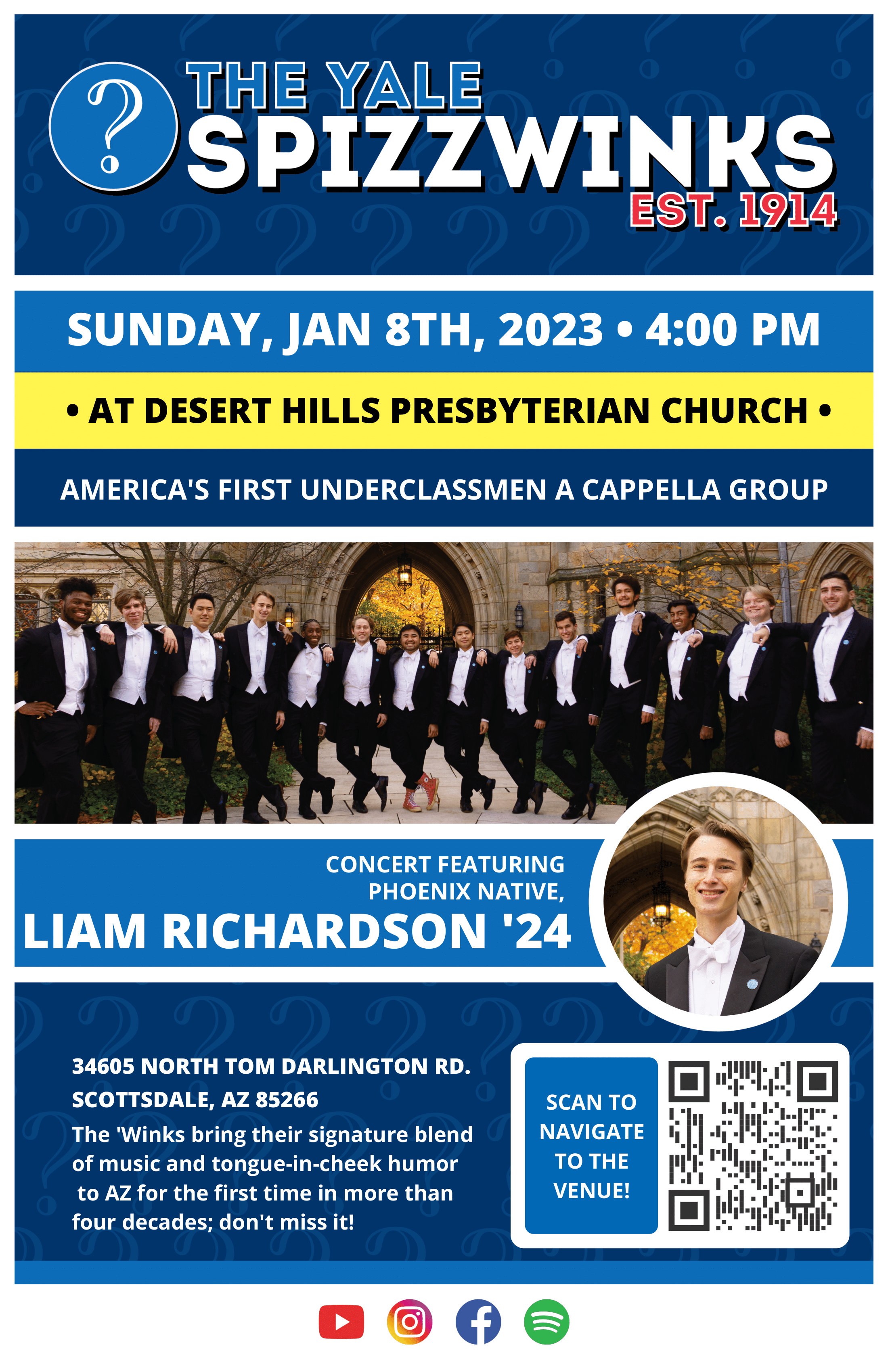 The Yale Spitzzwinks
The Yale Spizzwinks are America's first underclassman a cappella group. In an age
before iPods or reality TV, when the only way to hear singing without instruments
was in the shower, we showed the world that a bunch of college guys sporting
sweet harmonies and a perplexing name was a winning combination. That's right
– we liked a cappella before it was cool.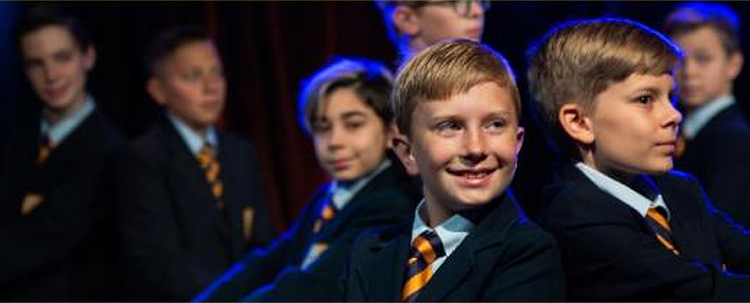 The Phoenix Boys Choir
Saturday, March 25, 2023
2:00 PM
The Phoenix Boys Choir
Since 1947, the Grammy-award winning Phoenix Boys Choir has provided choral music training, education, performance opportunities and learning experiences that instill excellent musicianship and critical values in young people. Our program develops responsible, caring, creative young people who will be our future leaders and citizens endowed with a passion for the performing arts and community.
The Phoenix Boys Choir has performed across the United States, including performances for four United States Presidents. The choir has performed in 25 countries over the last 20 years, including singing side by side with the Vienna Boys Choir in the famous Court Chapel. Their concert performances include a wide repertoire of music from classical to popular selections. We are excited to host 50-55 boys from as young as 7 years old through adult.
You don't want to miss this one!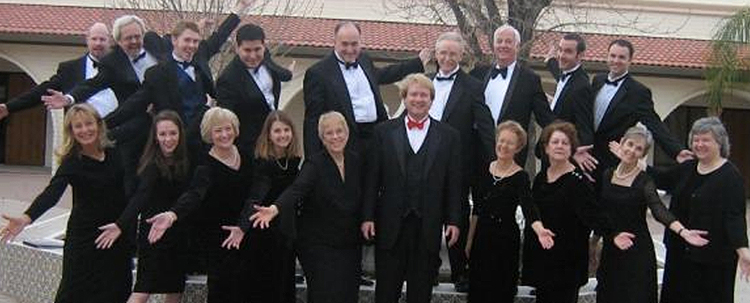 The Valley Chamber Chorale
Saturday, April 22, 2023
4:00 PM
The Valley Chamber Chorale
The Valley Chamber Chorale is a not-for-profit organization dedicated to enlightening the community and enriching its culture. Through skilled performances of choral programs featuring an eclectic repertoire with emphasis upon unaccompanied works of the Renaissance and selections by Twentieth Century American composers, the Chorale offers entertaining and educational concerts at a variety of venues throughout the Phoenix Metropolitan area.
Please join the Valley Chamber Chorale as the celebrate 35 years of bringing great choral music to residents of the Valley of the Sun. This program will feature a cross-section of a cappella as well as accompanied choral works, with sacred as well as secular texts, representing various composers from the past five centuries. In a nod to the ensemble's three-and-a-half decades of performing together, many selections will be drawn from past concert programs; they will be pieces that the Chorale members have enjoyed singing, or that audiences have particularly appreciated – or that ensemble leader Dr. Christopher Samuel has especially liked teaching and introducing to the public.
Community milestones of this nature are always fun occasions, so we hope that you will help mark this anniversary while simultaneously enjoying some of the finest music from the choral canon.